Trimmer (Trimming Potentiometer) is a small device for measuring, comparing, or controlling electric potentials; specifically, a kind of resistor that can be varied, as in a rotary device used to control the volume of a radio, TV, etc. They perform a variety of circuit adjustments in all types of electronic equipment. Around the world, trimmers are used in virtually every electronic market. We are proudly using Trimpot® single and multi-turn trimmers by Bourns Inc. Both in our industrial standard interface board, as well as electronic DIY kits. These ensure easy calibration with high accuracy.
Multi-turns Trimmers (MT Trimmers) specifications:
Manufacture Bourns® Trimmers Sires 3296W
Rotational Life 200 Cycles
Number of Turns 25 Turns
Power Rating 0.5 Watts
Mounting Type Through-hole, 3 Pins
Resistance value in stock 100 Ohms, 500 Ohms, 1K, 2K, 10K, 5K, 50K, 100K & 500K
Tolerances ±10%
CRV/ENR 1% or 3 Ohms (whichever is greater)
Temperature Coefficient ±100ppm/°C
Construction Sealed
Multi-turns Trimmers Mechanical drawings: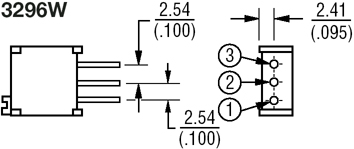 Dimension are mm/Inches

Packaging:

* Standard 50 Pc. per rails.
* Please be advised that minimum MT trimmers soled in bundle of two plastic rails (100pc).