Voltage Monitoring is an Electronics board that allows you to connect 5 to 14VDC on one side of the board and get it corresponding LEDs light on the other side. Every Car, tractor or boat should have one. The boards will allow you to easily monitor your 12V battery while powering from the same battery. The Terminal Block TB connector is included and makes it easy to use.
When used as car-battery-monitor, it provides early warning of battery problems. Ideal to prevent flat batteries and other embarrassing incidents on your Car, RV or boat. The board gives visual indication via front mounted LEDs of current battery voltage. YEP--be in the green (green LEDs) and drive safe. Finally, connect the board to the car battery via front mounted terminal block is a snap.
There are three models, A, B and C. The main difference between the boards is that each model design to monitor different range of voltages. The changing voltages are indicate via Light Emitter Diode (LED) L1 to L8.
Model A: Voltage monitoring 4.25 to 6VDC while at 5V half of the LED (left to right) will light
Model B: Voltage monitoring 7.25 to 8.75VDC
Model C: Voltage monitoring 11.5 to 12.5VDC
---
LEDs configurations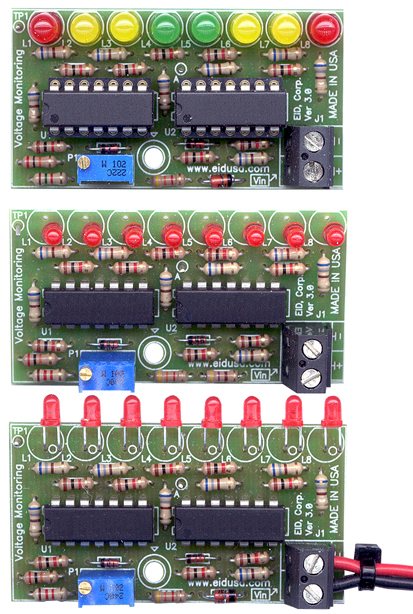 Shown above in three different LEDs configurations:
Top: Different color large LEDs.
Center: Small red LEDs mounted perpendicular to the PCB.
Bottom: Small red LEDs mounted in a vertical position, and wires configuration (option).
---
Kit Includes
LM324 Op-Amp 2pc.

1K Ohms Resistor 7pc.

470 Ohms Resistor 1pc. (model A only)

4.3K Ohms Resistor 1pc.

1.2K Ohms Resistor 1pc. (models A and C only)

1.5K Ohms Resistor 1pc. (models A and C only)

680 Ohms Resistor 8pc.

20K Ohms Resistor 1pc.

Red LED 8pc. (large) small LEDs are available

1K Trimmer 1pc.

1N4148 Diode 2pc.

1N4733 Zener Diode 2pc. (model B only)

1N4737 Zener Diode 2pc. (model C only)

2P Terminal Block Connector 1pc.

PCB 1pc.
---
Application-note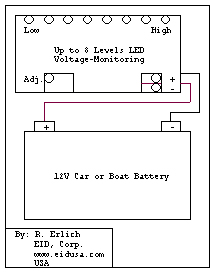 Monitor your 12V battery mount it directly on your car, boat or tractor dashboard
---
Schematic