MEET WAILER, the loud and easy siren-like sound kit.
Our WAILER has many applications; fill your party with wailing sounds! Mount the WAILER on your bicycle so you can make noise while you ride. No need for mechanical rings. Mount it as a front door bell. Or mount it in your room as an alarm. Place WAILER anywhere you'd like to draw attention, to make a neighbor yell, or cause your friends to laugh. The unique small design will allow you to mount it almost anywhere. Operate it with 6V (combination of four series D, AAA or AA size batteries), 9V battery, 12V car battery or via one of our batteries simulator kits. The alternatives and the uses are endless. It's designed for the beginner as well as the expert. Please drop us a line at sales@eidusa.com and let us know how you use your WAILERS!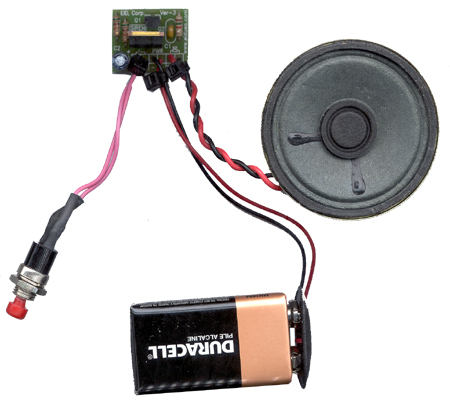 Kit Includes:
Schematic: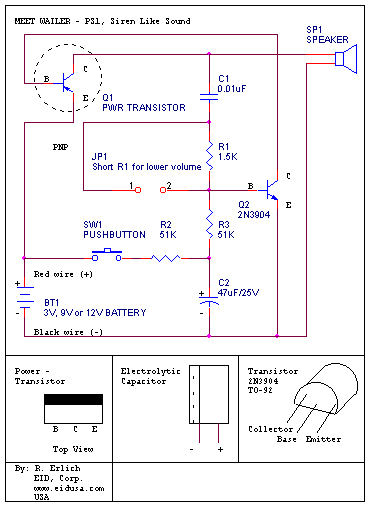 MEET WAILER – Our siren like wail sound. The siren kit is based on "feedback-oscillator." Simply press the push button, the circuit will start to isolate, and the frequency will increase rapidly due to a positive feedback. Release the switch and the frequency will decrease.
We chose the 2N3904 NPN transistor to drive the power PNP transistor TIP30C. The 2N3904 is a general purpose amplifier and switch transistor, which makes it perfect for this application. Rated 100mA as a switch, and up to 100MHZ as an amplifier.
Finally, decreasing volume is done easily by shortening resistor R1 1.5K Ohms (Brown, Green, Red). This will reduce the current at Q2 base. Consequently, the power to the speaker will decrease from about 5 to 6W down to 200 to 300mW. Your neighbors and family will thank you :-) To change the sound pitch is easily done by decreasing the electrolytic capacitors size i.e. C2 = 22uF, 10uF or 4.7uF. Please be advised any capacitor use with this kit should carry 25V rating and above. You can find a variety of capacitors on our web. Any modification you do is at your own risk.
Note: The 9V battery is for demonstration only and is not included in this kit.